At In The Weeds Customs we can take your ideas from concept drawings to precision fabricated parts, from crankshaft to clear coat and deliver it with a full one year limited warranty. Very few shops offer this kind of full service background and ability. In The Weeds Customs formerly BRO Customs has stood the test of time, lasting decades longer than most customizing shops. Our goal is customer satisfaction, American Craftsmanship and quality work.
In The Weeds is fully equipped to do all the work on your hot rod or bike. We can restore antique bikes, modify choppers, repair accident damage, fabricate, weld and show polish. Drive your bike in and drive it away custom painted, restored, rebuilt or repaired and with a full year warranty.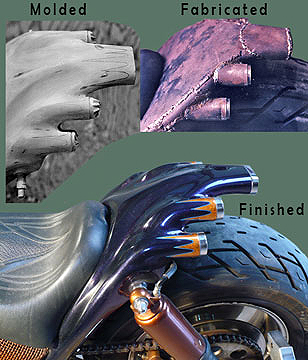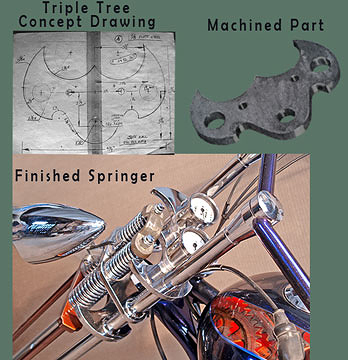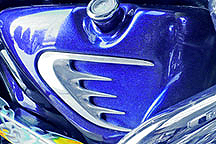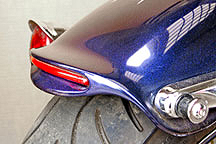 Mustang style oil bottle with hand made chrome insert. LED strip tail light molded into bobbed rear fender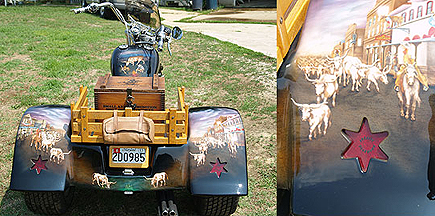 Tail light cut outs:
Our tail light cut outs aren't just cut out of flat sheet metal, they are recessed back for a solid thick look .
In The Weeds Customs can do it all for you. We are a one stop shop at the highest level .
Part striping:
The secret to great work is superior preparation. Part striping, new tanks, rust removal and removal of welding slag is accomplished with our sand blasting cabinet. Any good finish starts with proper substrate preparation. No job ends up right if it isn't built on a foundation of quality work
Epoxy primer:
None of our body work is ever done on the steel. We always epoxy prime the substrate first. This ensures a life-time bond and prevents any issues with fuel lifting of the paintwork. No body shop does this level of work like we do. Skim coats are applied over all body work to completely eliminate any surface definition problems once show polished.
Tank seal:
Fuel tanks are fully inspected. nothing could be more important to your carburetor or fuel injection system. We use the best in durable sealing methods. The POR-15 fuel tank sealer system begins with a full rust removal system, stopping any rust dead in it's tracks permanently. The extremely durable sealer will never flake or lift like the old cream coat systems or radiator repair shop goop. Once done it will never need to be done again.
Powder coating;
We can powder coat your parts from the frame to the engine using the latest in powder-coat technology. Re-finishing wrinkle black in powder-coat will ensure it never comes off. Flat and high gloss powder-coat finishes create that custom look and durability when we build or restore motorcycles, all exactly to your specifications.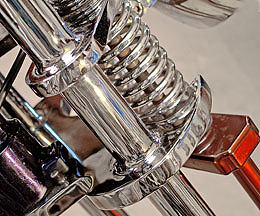 Chrome plating:
We can take any of the parts you have, including frames and wheels and chrome plate them. We also nickel plate parts for accurate restorations. We use the best in Copper-Nickel-Chrome system which is polished to a mirror finish. Full disassembly press, bead and sand blasting are done to ensure the finish is perfect.

Notice that we ground the welds for a superior show finish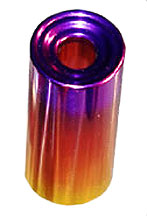 Anodizing:
(Dyed Aluminum) is a process of coloring and hardening aluminum. Anodizing will protect the aluminum parts by making the surface much harder than natural aluminum. Aluminum oxide is grown out of the surface during anodizing and then becomes aluminum hydrate that is extremely hard. The porous nature of the anodized layer allows the product to be dyed any color that is required. The color can look like a transparent candy paint, its beautiful.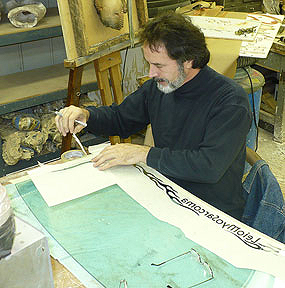 Glass Etching:
This is a nice subtle effect. Designs can also be stained for a little color effect. Names or scroll work are a detail that will not be overlooked by the judges.
This process does not weaken the integrity of the glass.
Home/Gallery | Request a quote | About the artist | Why Choose us | FAQ | Links