Builder,
Painter; Wayne Nowicki




Dragon 1968 Rally Sport Camero

After serving a 4 year stint in the navy as a operations specialist in 1972 I lied about my qualifications to get a job as a painter at bendix out side of Baltimore. I squeezed the trigger there for 7 hours a day for 30 years shooting every kind of paint material imaginable. I was always consulting with the paint industry reps on how there paints performed. In my off hours

I started the shop BRO CUSTOMS based near the BWI airport where I built and painted hot rods, show cars and custom motorcycles. Showing many of them threw out the mid Atlantic area threw the 80ís and early 90ís including a record 3 peoples choice awards in a row at the Philadelphia car & bike show and 4 at the Baltimore car show.

My father was a master wood worker and built prize wining displays for our show cars and motorcycles.



Decision time, Bro Customs 1984 - Wayne in baseball cap left.


Cuz I Can Custom build 2004
---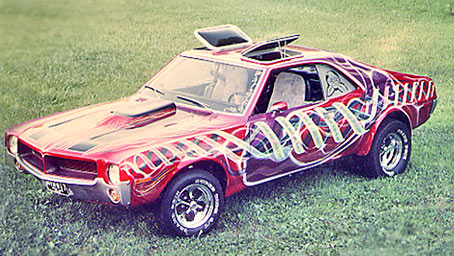 The Artist; Jeff Hall's art career spans decades. As a kid I started airbrushing in the mid 70s using a truck tire inner tube for air. I honed my skills airbrushing T-shirts At night, after working all day as a machinist in the industrial shops out side of Detroit. I then moved on to motorcycles & cars, I bought a 1970 AMC Javilin from a returning Vietnam vet and built my first show car. I used every paint trick in the book and even invented some. That car was my rolling portfolio. I moved to Baltimore in 1979 where I first drove it up to Flips Customs. His brother had just built a show bike with an Arlen Ness frame and needed some artwork, (timing is everything.) At about the same time I also started painting for Bro Customs, I painted on the curved metal of motorcycles and hot rods there for 15 years, working my way threw art college. These busy hands couldnít do enough, so while In college I took a lot of figure sculpture classes. Sculpting was something that I had to express for a while. In a lot of ways motorcycles are the ultimate sculpture they incorporate metal work, engineering and painting. I take a great deal of pride in my part of your rolling sculpture, the artwork. After browsing through these pages, I think you'll see what I mean. I have always tried to give the customer more than they were expecting so that you get the best possible paint job for your hard earned dollars.

1981 Honda chopper 52 degrees rake built 1996




Hood scoop 1979


Cancer tribute Camero 2010



A lot of clients over the years bring me illustrations that they would want to have painted on there bikes or cars. Artist like Frank Frazetta, Michael Whelan, Boris Vallejo, Peter Jones, and others. These artist inspired a generation of hot rod enthusiast and I hope that buy reproducing there work on these traveling machines it has helped to spread the recognition of there genius. I apologize to them for any constructive changes of there creations.